---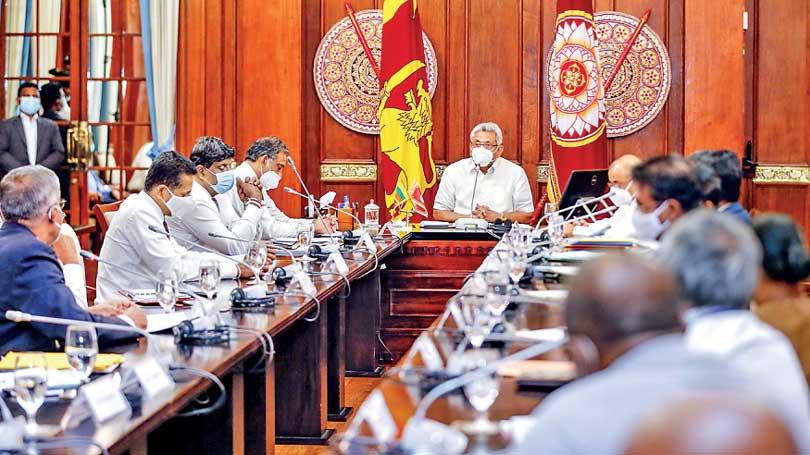 Future development projects to be given to local engineers
Calls on engineers to revolutionise construction sector
By Lahiru Pothmulla
President Gotabaya Rajapaksa has said the current challenges faced by the country was 10 times greater because of the COVID-19 pandemic when compared with the challenges he encountered at the time he took over the administration.
But that he would face the situation with more vigour, the Presidential Media Division said when reporting a meeting he had with the members of the Institution of Engineers of Sri Lanka held at the Presidential Secretariat on Thursday.

The President said for many years the preparation of feasibility reports of development projects, construction supervision and decision-making have been done by foreign engineers and that the projects carried out by them had failed to meet the needs of the people.

He said the culture of assigning development projects to foreign companies will be stopped and future development programme will be entrusted to the local engineers.

"The government placed faith on the youth in the battle against terrorism. In the same manner, I will place my trust on the local engineers in the expected revolution in the construction sector and the past era of renowned engineers from Sri Lanka should be ushered in again," the President said.

He said he was deeply saddened by the current status of the State Engineering Corporation and the Government Workshop adding that the responsibility of rebuilding these institutions better than before remains with the engineers.

The President also highlighted the importance of the contribution of local construction companies and engineers in resolving the housing problem of low and middle income earners.

"Developing the economy means raising the living standards of the people," President Rajapaksa said adding that a development plan should be drafted with the aim of achieving this target.

The PMD said the engineers have assured they would shoulder the task of putting in place a local mechanism in the country, reciprocating the confidence placed in them by the President.

Presidential Secretary P.B. Jayasundera, Ministry Secretaries and Heads of State and Private Institutions were also present at the discussion.

Quote -- The Govt placed faith inn the youth in the battle against terrorism. Similarly, I will place my trust in the local engineers in the expected revolution in the construction sector