---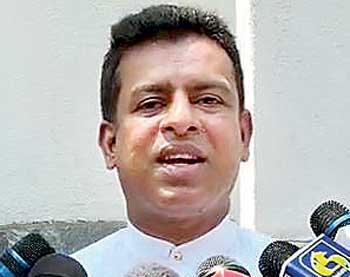 By Kurulu Koojana Kariyakarawana
Adding a twist to the ongoing controversy over the government's attempt to introduce a security sticker to all local liquor bottles by involving a dubious Indian company at a cost of Rs.1 billion, Parliamentarian Buddhika Pathirana lodged a complaint with the Bribery Commission yesterday.

The Opposition MP who was carrying out a relentless struggle in the House against the recent attempts by the Department of Excise to introduce a new security feature to all the locally made liquor bottles said a sum of Rs.1 billion will be embezzled per annum if this 'shady deal' was continued.

SJB MP Pathirana told the media outside the Commission to Investigate Allegations of Bribery or Corruptions yesterday that an urgent probe should be made into this attempt by the Excise Department to act with an infamous Indian company to print security stickers, on the instructions of the Ministry of Finance.
He said the initial proposal was made in the 2016 budget under the then regime and two of the top politicians of the Yahapalana Government was involved in getting a tender agreement passed with the said company MSP (Madras Security Printers) even disregarding several companies that bid lower rates for the printing of the security sticker.

"Even President Gotabaya Rajapaksa inquired from me about this controversial deal and I met the President yesterday morning to brief him on all matters pertaining to it," MP Pathirana further said.