---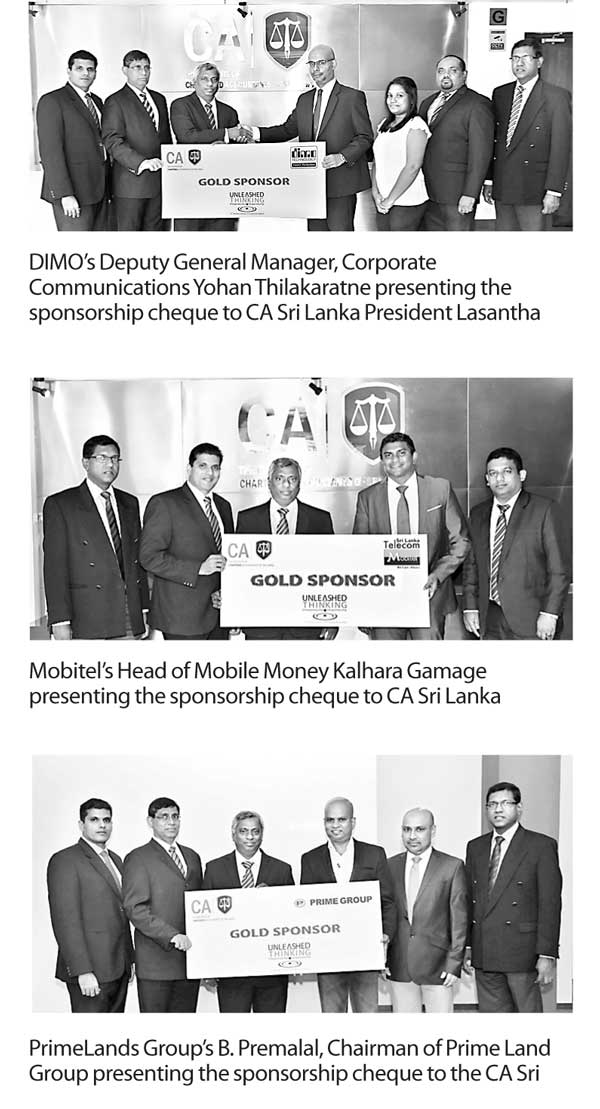 Three leading companies, Diesel & Motor Engineering PLC (DIMO), Sri Lanka Telecom – Mobitel and Prime Lands Group have come onboard to power the 37th National Conference of Chartered Accountants with gold sponsorships.

The conference which will attract over 1500 participants next week will centre on the theme 'Unleashed Thinking: Entrepreneurship and Intrapreneurship.'The three-day conference, from 19th to 21stOctober 2016 comprising of two days of technical sessions will bring together well known entrepreneurs of local and global repute who will inspire participants including business leaders on the the potential of entrepreneurship and intrapreneurship and how it can help Sri Lanka become a global player.

Chairman / Managing Director of Diesel & Motor Engineering PLC (DIMO) Ranjith Pandithage said. "The roles of accountants around the world have been changing over the past decades, and Sri Lankan Chartered Accountants have been in the forefront in embracing and responding to these changes. Apart from excelling in the traditional role of Accountants, Chartered Accountants have aptly demonstrated their capabilities in driving businesses forward."

Chairman of Sri Lanka Telecom – Mobitel, P. G. Kumarasingha Sirisena said, "The topic of the conference is key in today's modern world where business entities are transforming in line with global trends and it is SLT Mobitel's pleasure to support this milestone event promoting the same.

Chairman of Prime Lands Group B Premalal said, "Prime Lands Group, from its inception has always contributed in a significant manner towards the national development, each year setting a higher benchmark, striving for nothing but excellence. In our strive to provide our clients with excellence, we believe that professionalism is of utmost importance," he said. Welcoming the companies onboard, Lasantha Wickremasinghe, President of CA Sri Lanka said as a country, Sri Lanka has great potential to be a global player. "We believe this Summit which attracts a significant representation of corporate leadership, will be the perfect platform to promote and stimulate upon the importance where both entrepreneurs and intrapreneurs can take the lead to help Sri Lanka achieve it's true potential."