---
The world-renowned Global Finance magazine recently recognized and listed Amãna Bank in the magazine's 'Innovator 2016' index for its novel Gold Certificate Financing product, which was introduced as an alternative for conventional pawning.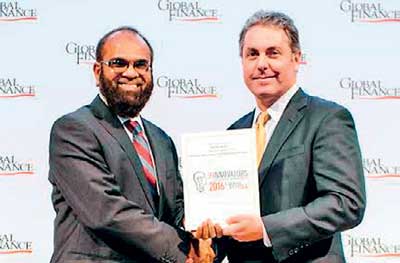 This prestigious index recognizes the top banks worldwide that are disrupting the marketplace through innovation. The recipients of this elite index were recognized at a ceremony held in London in October which coincided with the annual Global Finance Digital Bank Conference.
Collecting the accolade at the awards ceremony, Amãna Bank Chief Executive Officer Mohamed Azmeer said, "We are honoured to be among the top banks in the world recognized for innovation. As the pioneer of Islamic banking in the country, we have committed ourselves to continued innovation. Meanwhile, our strategic plan emphasizes on the importance of enhancing financial inclusion and ensuring alignment with the economic needs of the country.
This product is a result of such commitment towards innovation and the strategic direction. Through this product we are now able to facilitate convenient credit at grass root levels to help fund personal as well as other micro industries. I am thankful to my product innovation team and scholars for their valuable contribution in developing this product."
Apart from recognizing innovation in Islamic finance, the Global Finance magazine also distinguished innovations in corporate finance, transaction services, trade finance and foreign exchange. The award ceremony in London also recognized organisations that have excelled in the digital banking arena. Through its various awarding platforms, Global Finance has set a global benchmark and become a recognized and trusted standard of excellence.