---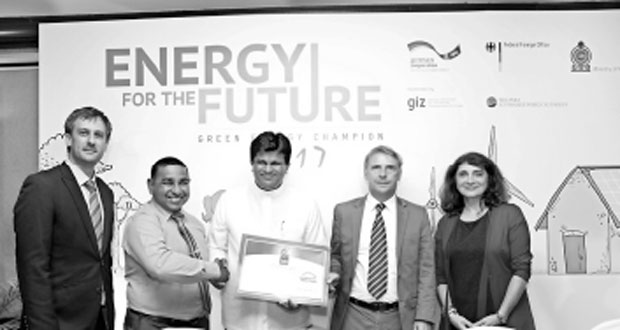 The Carbon Consulting Company, an institution that conducts strategies which measure, manage, mitigate, maximize and help elevate and acknowledge client recognition levels among its stakeholders recently launched the second edition of the Green Energy Champion Sri Lanka 2017 (GEC II) Initiative.

The event was unveiled by the German Federal Foreign Office together with the Ministry of Power and Renewable Energy of Sri Lanka, and the project implementing partner Deutsche Gesellschaft für Internationale Zusammenarbeit (GIZ) GmbH and Sri Lanka Sustainable Energy Authority.

The aim of the GEC II is to encourage entries for the best ideas involving the use of renewable energy. Winners would receive a reward of LKR 10 million or EUR 60,000 worth of equipment to carry out their renewable energy idea along with technical expertise for its implementation.

Applicants were invited to visit www.greenenergychampion.lk and apply by submitting their concepts that improve energy efficiency and/or harness the use of renewable energy to the benefit of the wider community. Entries have been made open for community based organisations (CBOs), schools, household groups, and Small and Medium Enterprises (SME) until 18 August 2017.

Competitions with focus on carbon neutral events such as the GEC II pose the chance to support local communities and thus encourage them to practice a more sustainable approach for their energy requirements in their day to day lives. This event is an example of how important implementation of carbon neutral event management is when it comes to a project of this magnitude.