---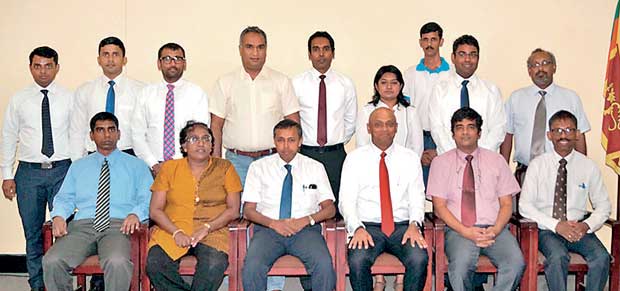 Sri Lanka's only local original device manufacturer (ODM), E-W Information Systems Ltd (EWIS) launched a fully-equipped research and development centre (R&D) at the University of Moratuwa (UoM).
The EWIS-UoM Computer Products and Process Development Research Centre, located at the university premises will facilitate a partnership for knowledge sharing, the exchange of data, experience and technical equipment.
This unique partnership will enable EWIS and the university to add value to locally manufactured products and services with the aim of utilizing the talent of our graduates and the 30-year experience of EWIS in the field of information technology.
One of the key features of EWIS is education and empowerment of students through technology, knowledge and equipment. Together with the university, EWIS will programme and customize computer devices to suit the local educational environment and curriculum and its ecosystem. Over the years, the company has enriched the lives of thousands of teachers and students from primary through university levels with software and hardware.
Speaking at the opening, UoM Computer Science and Engineering Department Dean Prof. Kapila Perera said, "Our university has some of the best talent in the country. Along with the exceptionally talented graduates that we produce, we are also very proud of the patents that we create."
Prof. Perera said he had the huge responsibility of nurturing young minds and thanked EWIS for giving him the opportunity to open up avenues for these minds to be enriched and educated further.
EWIS Chairman Sanjeewa Wickremanayake has always been a strong proponent of local innovation and manufacture.
"Why do we always have to think of imports when we have the talent and the brains to produce world-class products?" he questioned. "It is our duty, as the private sector to open up opportunities for our next generation through such R&D centres and innovation centres. I am proud to partner with this university and have no doubt that the outcomes will be of great value to our country and its future."
He stressed that it is time for Sri Lanka to be independent of international brands and to look at our own patents, to develop our own industry using our own talent.
Intel EM Country Business Manager Sri Lanka Indika de Zoysa said, "Intel has a long history of collaborating with local technology companies to help advance their innovations and nurture a vibrant partner ecosystem. Intel's collaboration with EWIS has been very productive and we believe this initiative will open new possibilities for Sri Lanka to promote our smart innovations on the global stage. I congratulate EWIS for taking this step and Intel will continue to provide required expertise and guidance to develop this initiative further."
Intel and Microsoft Sri Lanka are 'trusted partners' of EWIS, bringing international expertise and perspective to the company. The EWIS ODM plant in Sooriyawewa is the country's first and only factory to manufacture all local devices such as desktops, laptops, tablets, computer sticks, power banks and other computer accessories. Students from the university get the chance to visit the factory to ascertain vital data on the improvement of its devices, etc., and gain hands-on experiences.
Microsoft Sri Lanka OEM Director Pubudu Basnayake added, "There is a huge shift in other countries to produce local brands and we must also go in that same direction. Microsoft has always supported EWIS in their journey and it is a great day for us to envision a next generation of innovators from this university."
University students will be able to use the data acquired through EWIS sales and marketing, study behavioural patterns, learn about user experiences, etc., to ensure the products are updated accordingly. Local products must be made to withstand dust, heat, pollution and other local environmental effects to work at maximum capacity.
"These are some of the insights that we will be using to make better products for a better future for our future leaders," said UoM Computer Science and Engineering Department Head Dr. Chathura De Silva.