---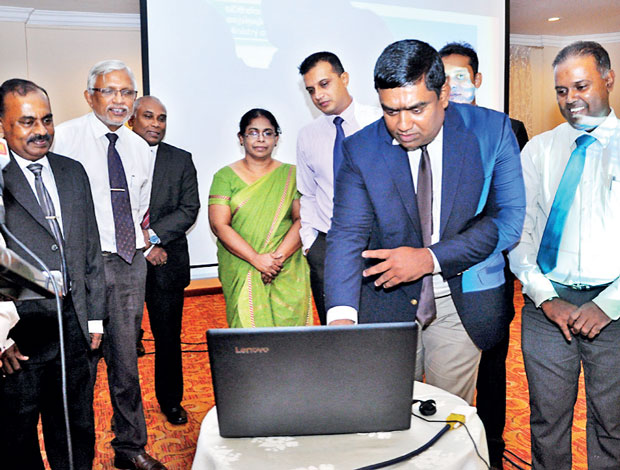 Industry and Commerce Ministry Secretary Ranjith Asoka officially launches e-ROC digital platform in the presence of Telecommunications and Digital Infrastructure Ministry Secretary Wasantha Deshapriya, KPMG Partner C.P. Jayathilake, Registrar General D.N.R. Siriwardena, ICTA Special Projects Director Kanchana Thudugama and other government officials
Pic by Nisal Baduge
By Chandeepa Wettasinghe
The Registrar of Companies yesterday launched the e-ROC digital platform, which would allow companies to be registered in Sri Lanka within one day going forward, compared to the previous nine days.

"With the launch of e-ROC, we have moved from an 80-year-old process of manual work to electronic processing. This is an important milestone," Industry and Commerce Ministry Secretary Ranjith Asoka, under whose purview the Registrar of Companies falls, said yesterday at the launch of the e-ROC platform.

Under the first stage of e-ROC, a company name could be registered and then incorporated, while under the second stage, all other services, including linking the tax files at the Inland Revenue Department and the Employees' Provident Fund (EPF) files at the EPF Department, would be completed.

KPMG and Informatics (Pvt.) Ltd developed the portal, while the state's ICT Agency (ICTA) acted as the project manager and technical consultant.
KPMG Partner C.P. Jayathilake said that the next phases of the project would involve e-ROC providing companies the services of updating documents, deregistering and filing 25 to 30 types of returns.

Asoka said that the project was developed at a cost of Rs.57 million.

He stated that 9,782 companies, 84 societies, 817 company secretaries and 19,275 public contracts were registered in 2017.

"When the process duration is reduced from nine days to just one, like the ICTA said, it saves a lot of time and improves efficiency," Asoka said.

He added that 208,710 documents were submitted to the Registrar of Companies and that going digital would help the Registrar of Companies become paperless.

Asoka went on to say that setting up e-ROC is crucial to Sri Lanka improving in the World Bank's Ease of Doing Business Index.

"The prime minister always communicated his interest in this project," he said.

He said that the Industry and Commerce Ministry hopes to further identify the needs of the private sector and take the required action.

The Sri Lankan government is expecting to rise up to the 70th position in the Doing Business Rankings by 2020, compared to the current ranking of 111 and has set up eight task forces to implement actions, such as e-ROC to improve the rankings.

Before e-ROC was launched, registering a company in Sri Lanka was ranked as the 77th easiest in the world.