---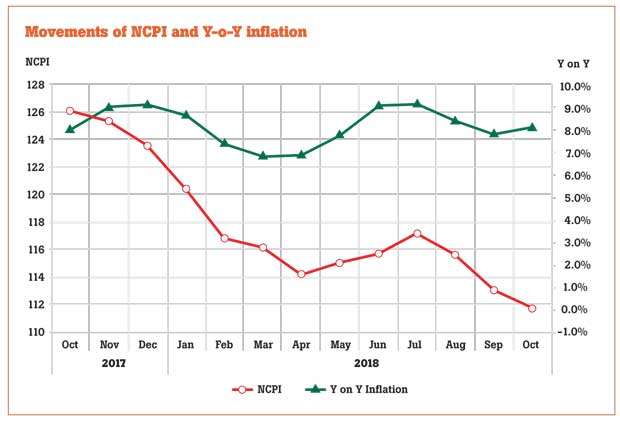 Sri Lanka's nationwide inflation measured by the year-on-year (YoY) change in the National Consumer Price Index (NCPI) in October decelerated to 0.1 percent— the lowest point since January 2016—on high base effect.

"The deceleration observed in year-on-year inflation in October 2018 is mainly driven by the higher base prevailed during the corresponding month of the previous year due to higher food prices," the Central Bank said.

Food inflation dropped for the third consecutive month and recorded a -6.6 percent in October. However, YoY nonfood inflation continued to increase and reached 5.8 percent during the month.

The change in the NCPI measured on an annual average basis decreased to 3.3 percent in October from 4.0 percent in September 2018.

The month-on-month change of the NCPI increased by 0.4 percent due to an increase in the prices of the items in the non-food category, particularly that of transport (petrol, diesel, bus fare and train fare) and miscellaneous goods and services sub-categories.

Meanwhile, prices of the items in the food category declined during the month where prominent price declines were observed in fresh fish, eggs and coconuts.
The core inflation, which reflects the underlying inflation in the economy, increased to 3.4 percent in October from 3.1 percent in September on YoY basis.

Meanwhile, the annual average core inflation remained unchanged at 2.4 percent.