---
Malaysian envoy in Colombo says feasibility study on proposed FTA completed
Bilateral trade between Sri Lanka and Malaysia hit all-time-high of US $ 780mn in 2018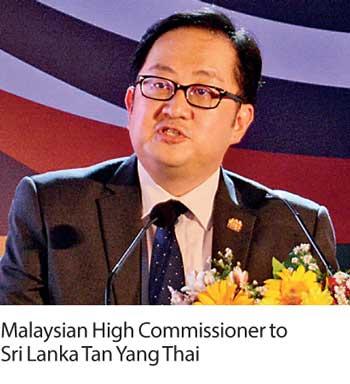 Malaysia is awaiting the green light from Sri Lankan counterparts to officially commence negotiations on the proposed Free Trade Agreement (FTA) between the two countries.

"We have already completed a feasibility study on the proposed FTA and we are keen to move forward with the negotiations," Malaysian High Commissioner to Sri Lanka Tan Yang Thai told Mirror Business. Despite the delay from the Sri Lankan side, he stressed that Malaysia will not give up on its efforts on the proposed FTA between the two countries. Sri Lanka is currently in the process of selecting a team of consultants or an institution to conduct fresh feasibility studies on all proposed FTAs.
The Development Strategies and International Trade Ministry recently said that Sri Lanka could move ahead with FTA negotiations with prospective countries while feasibility studies are being done.

However, the government wouldn't sign any FTA agreements until the studies are completed.

Thai noted that bilateral trade between Sri Lanka and Malaysia hit an all-time-high in 2018 to US $ 780 million while the two countries traded almost US $200 million worth of goods during the first four months of this year. "The proposed Malaysia-Sri Lanka FTA will open up many avenues to further enhance trade between the two countries," he stressed.

Malaysia has emerged as a key importer of Sri Lanka's natural rubber in recent years while Sri Lanka also exports apparel products to Malaysia in smaller quantities.

Thai pointed out that Malaysia is interested in importing more agricultural and fisheries products from Sri Lanka under a future FTA between the two countries.

Meanwhile, a group of Malaysian investors recently met with Prime Minister Ranil Wickremesinghe to discuss potential investments in affordable housing, agriculture and manufacturing sectors in Sri Lanka.
"The Sri Lankan government requested more information from this group of investors. They are bullish on investing in Sri Lanka and they plan to return to Sri Lanka with their complete investment proposal for the Sri Lankan government," the Malaysian envoy said.

He expressed confidence in Sri Lanka, which is recovering from adverse impacts of Easter Sunday attacks.

Once the Presidential elections are concluded in Sri Lanka, Thai expects that there would be much more clarity on policies for investors.

(NF)