---
Says he will pull back on money printing gradually without any undue stress to economy
To announce timelines to end current capital and import restrictions
Says despite heightened money printing, inflation is not yet in "danger zone"
No mention of IMF but assures new inflows via swaps from G2G deals to bolster foreign reserves
The newly-appointed Central Bank (CB) Governor Ajith Nivard Cabraal this week announced plans to unveil a fresh economic stability road map shortly, prioritising stability, including plans to pull back on money printing, with a view to rebuild confidence on the economy among the key stakeholders and
market participants.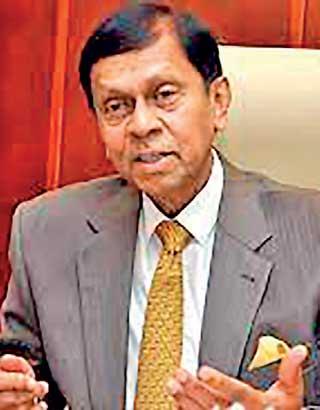 Ajith Nivard Cabraal
"We are going to unveil a road map in next few days, which will take into consideration the different stakeholders and their expectations, so that we can provide them with clear guidance as to how they should move in these turbulence times," Cabraal told Bloomberg TV in his maiden media interview this week, after assuming office as the new CB Governor.

The CB is expecting to provide the much-needed guidance and leadership to various stakeholders through the upcoming road map for the economy to move forward
with clarity.

"The first and most important part would be the stability. We want to give the markets the expectations that we would be in a position to deal with all eventualities. There has been a perception gap in our country and that has been quite worrisome. The message of stability needs to go through and then we have to ensure that each stakeholder is kept aware as to what they should be doing. The stability comes from expectations being managed as well as certain steps being taken by the CB, which shows that in a way we are putting our money where the mouth is," he elaborated.

Commenting on the substantial growth in money supply seen since the pandemic, which has led to inflationary worries, Cabraal announced plans to pull back on money printing in a gradual manner, without hurting the economy.

"Printing money has already happened. My job would be to pull back on it gently without causing any pain and without causing any undue stress to the economy. In doing so, we are going to give a very clear message to the markets that we are conscious of inflation being curtailed in the future, so inflation expectations are not in any way aroused as a result of the current situation," he said.

Despite the inflation hitting the 6 percent mark, Cabraal noted that the country is still not in "danger zone" in terms of inflation.

Meanwhile, he expects the pressure on the country's foreign exchange reserves to ease up as the government expects US $ 350-400 million from disposing the underutilised state assets and US $ 1 billion from government-to-government (G2G) loans in coming weeks and months to service external debt repayment obligations.

The country's foreign exchange reserves improved to US $ 3.6 billion in August, after the country received a US $ 787 million boost from the International Monetary Fund's IMF) Special Drawing Rights allocation and further US $ 150 million under a swap arrangement with the Bangladesh Bank.
"The debt and foreign exchange situation is challenging. But I believe with the new steps that we are introducing, in particular, steps focusing on non-debt inflows and G2G financing hat we are pursuing now, we would be in a position to deal with those challenges as well," he said.

Further, Cabraal expects new investments to flow into the Colombo Port City Project, Colombo Stock Exchange (CSE) and pharmaceutical investment zone, which is currently being set up, with recent developments.

In addition, he reminded that the CB has a US $ 1.5 billion swap facility from People's Bank of China on stand-by.
However, he didn't comment on the moves to seek assistance from the International Monetary Fund (IMF), possibly entering into a programme to restructure the country's external debt-repayments, a move backed by many economists.

Meanwhile, Cabraal noted that the CB would also announce timelines for the country to move out from the current capital and import restrictions in place while striking a balance between the stakeholder expectations and stability.
"We don't want them for too long," he stressed.

In addition, Cabraal continued to back doing away with the virus-induced lockdowns while maintaining the health guidelines, allowing the economy to bounce back.

"I have been a proponent that lockdowns don't work too well and I have been making the request that the lockdowns should be curtailed as much as possible with health guidelines adopted," he reiterated.