---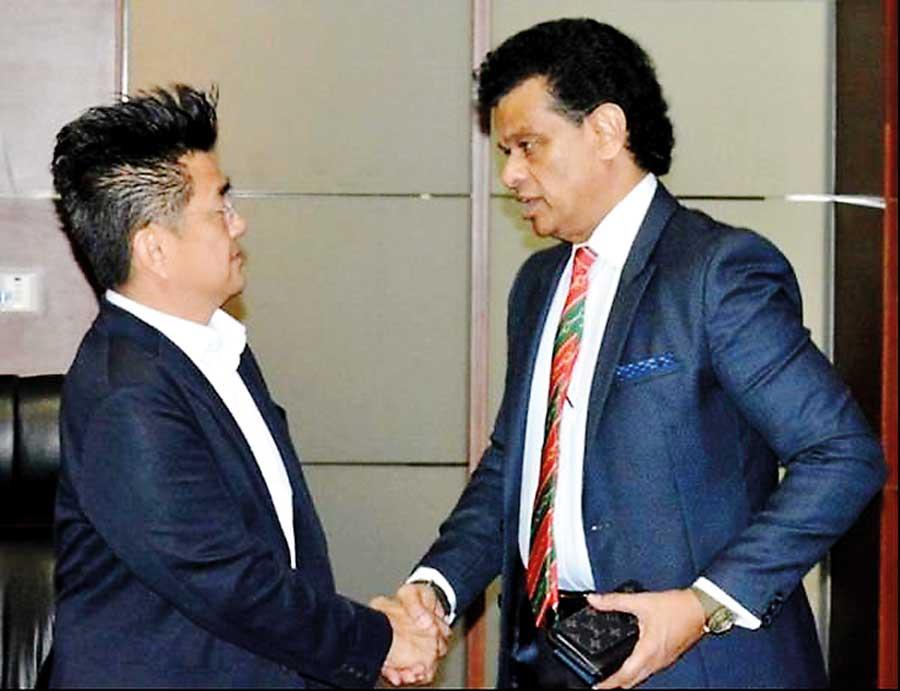 Sim Leisure CEO Sim Choo Kheng with Aitken Spence PLC Deputy Chairman and Elpitiya Plantations PLC Chairman Dr. Parakrama Dissanayake at official MoU signing
Sim Leisure Group Ltd, a leading theme park developer and operator based in Penang, Malaysia, has entered into a non-binding memorandum of understanding (MoU) with Sri Lanka's Elpitiya Plantations PLC, to set up its world-class ESCAPE theme park in Galle.

Elpitiya Plantations is an associated company of the blue-chip conglomerate, Aitken Spence PLC.As per the MoU, Elpitiya Plantations will sublease land for the project while Sim Leisure will develop and operate the theme park under its ESCAPE brand (ESCAPE Sri Lanka).

In order to develop ESCAPE Sri Lanka, Elpitiya Plantations has incorporated a special-purpose company under the name of Venture Valley Private Limited.

Sim Leisure said that Elpitiya Plantations would enter into a sublease agreement with Venture Valley for the sublease of a piece of land in Sri Lanka for the exclusive purpose of developing and operating ESCAPE Sri Lanka.

Having been granted the preliminary approval to commence construction and barring unforeseen circumstances, Sim Leisure aims to commence the construction of ESCAPE Sri Lanka in March 2020.

Both parties are also expected to sign the definitive agreement in relation to ESCAPE Sri Lanka later this month, which includes the entry of a strategic joint venture partnership, whereby Sim Leisure and Elpitiya Plantations (or its nominee) is the proposed joint venture partner of Venture Valley.

ESCAPE Sri Lanka will be located halfway between the Colombo city and the main beach resort of Galle, against the backdrop of a booming tourist industry.

"I see tremendous opportunity in the Sri Lankan market with its population of over 20 million. Sri Lanka is one of the few countries, which is unspoilt and green. The country's unpolluted coastline and beaches bring tourists from all over the world and its tourism industry is growing at an incredible pace," said Sim Leisure CEO Sim Choo Kheng.

He also highlighted that Sri Lanka has a tremendous untapped potential for family leisure, compared to East Asia and with a natural advantage by setting up the first large-scale theme park in Sri Lanka.

"Furthermore, the cost of doing business in Sri Lanka is relatively low. We will have the first-mover advantage of building the first world-class attraction in Sri Lanka.
Unlike many parts of East Asia, Sri Lanka has tremendous untapped potential for family leisure and a highly educated population hungry for success. We see this as a great opportunity to train the local population in our operations for future global expansion," Kheng added.

ESCAPE is an outdoor adventure theme park and water park and includes approximately 40 themed rides and attractions in three categories – Adventureplay, Waterplay and Gravityplay.
Sim Leisure's business model is said to be disrupting the typical mainstream business model from the West, which pays hefty royalties and requires costly investments in themed structures and mechanical rides, which would not be affordable in emerging markets, due to relatively lower spending power.

Instead, Sim Leisure offers self-directed, free-range play in a natural environment focusing more on creativity over technology. Due to this approach, the firm's capex remains around 10 percent or lower than that of conventional theme parks.

The group presently operates ESCAPE theme parks in Penang, Malaysia and caters to both local and foreign visitors.

Currently, the ESCAPE theme parks in Penang featuring various play-centric attractions, which include climbing zones, obstacle courses, vertical leap, zip lines, high dive platform and waterslides, have guests rediscover their innate balance, agility, physical strength, courage and play instincts.

Over the past 25 years, Sim Leisure has completed over 300 projects globally, including Bollywood and Motiongate (Dubai), Yas Waterworld (Abu Dhabi), Legoland (Denmark and Malaysia) and Universal Studios (Singapore).

In November 2019, the group officially opened the Guinness World Record's longest inner tube water slide, which measures 1,111 metres. The ESCAPE theme parks welcomed approximately 112,000 visitors in 2017 and approximately 185,000 visitors in 2018.

Incorporated in 1992, Elpitiya Plantations PLC is a leading Regional Plantation Company, cultivating diverse crops, including tea, rubber, palm oil and others across 8800 hectares of land in 13 estates, including seven estates in the Galle district, two estates in the Kandy district and four estates in the Nuwara-Eliya district.

The company has been looking into diversify into new segments such as agri and eco-tourism to achieve a sustainable long-term growth.