---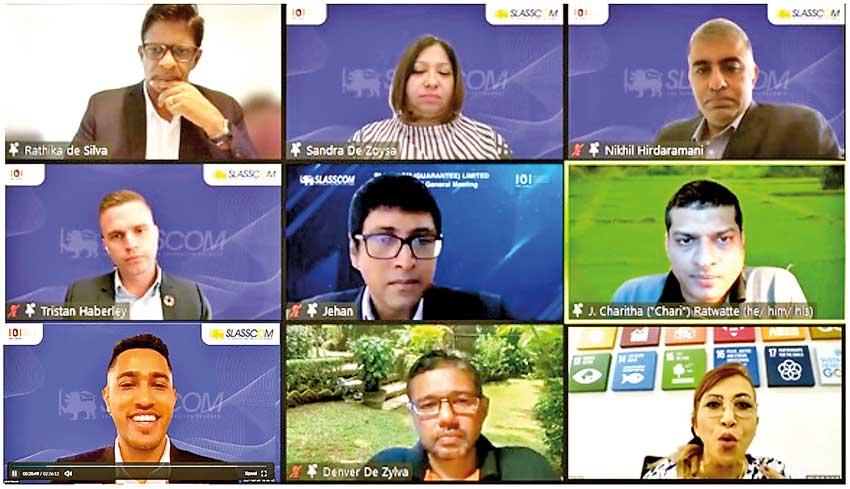 The launch of SLASSCOM ESG initiative
SLASSCOM recently unveiled its Environmental, Social and Governance (ESG) initiative in collaboration with the United Nations in Sri Lanka and Global Compact Network Sri Lanka.

The launch saw the participation of an esteemed audience of industry CEOs, Board and Corporate Leaders, who collectively made a historic pledge to "work together to build Sri Lanka's industry as the leading sustainable IT/BPM destination recognized globally" and committed to "prioritizing and championing Environmental, Social and Governance across their organizations and spheres of influence".

SLASSCOM had partnered with the United Nations Resident Coordinator's Office in Sri Lanka and an expert advisory team to create the ESG strategy in collaboration with multiple stakeholders within and outside the industry.

Going forward, the ESG strategy would be embedded into the industry's overall multi-year strategy. An advisory group and an operational executive committee have been established, consisting of industry representatives and corporate sustainability experts to support the development and implementation of the sustainability strategy.

SLASSCOM's Chairperson Sandra De Zoysa sharing the ESG vision stated, "All of us are responsible for protecting our planet and people, who are no longer an option but is mandatory and we need to act collectively to succeed. To further strengthen Sri Lanka's "Island of Ingenuity" Brand proposition, SLASSCOM is keen to see ESG become one of the key differentiators of the industry, where we position ourselves in the global marketplace as an innovative and sustainable solutions and service provider that contributes positively to society and the environment, while offering exceptional value. This will make our brand unmatched by others and place us at the forefront on the global map. Going forward, SLASSCOM will also aim to establish business responsibility reporting for the IT/BPM Industry with a suggested set of metrics which are industry relevant for all of us to adopt, including the Sustainability Development Goals (SDG) Compass."

Jehan Perinpanayagam, Vice Chairman, SLASSCOM added, "Sri Lanka's IT/BPM industry could be the first green IT/BPM destination in the world,renowned not just for innovation and talent, but for responsible, principled business that leads in climate action, diversity and inclusive of growth. SLASSCOM strongly believes that along with the goal of being a USD 5 billion export industry fueled by 1,000 start-ups employing 200,000 highly skilled professionals by 2025, the industry requires an ambitious goal in ESG that envisions Sri Lanka as a IT/BPM destination that promotes "tech for good".

Commending SLASSCOM for this initiative, United Nations Resident Coordinator, Hanaa Singer-Hamdy said, "The United Nations in Sri Lanka is pleased to collaborate with the IT/BPM industry to develop an industrywide sustainability strategy, that would help continue its growth while creating positive economic, social and environmental impact to Sri Lanka and to the global value chains it is part of".

Delivering the keynote address, Tristan Haberley, Fellow at the Office of the President Asia Pacific and Japan - Strategic Programs of SAP, highlighted the rising focus on ESG globally where it is now a key priority in Board rooms as a business imperative. Apparel industry leader Nikhil Hirdaramani also related how a strong focus on sustainability was not only pivotal in the positioning of Sri Lanka's apparel industry for growth but enhanced the quality of life of many of its stakeholders.

The forum featured inspiring case studies by two SLASSCOM member companies, both of whomhave each done much to advance ESG and are passionate advocates of responsible business, namelyDenver De Zylva, Senior Vice President Virtusa Corp and Charitha Ratwatte Jr. Head – Group Sustainability at Dialog Axiata PLC.