---
Says People's Bank needs to augment its capital base to maintain market share
Market share of State banks set to be reduced to 25% from current 45% in 5 yrs​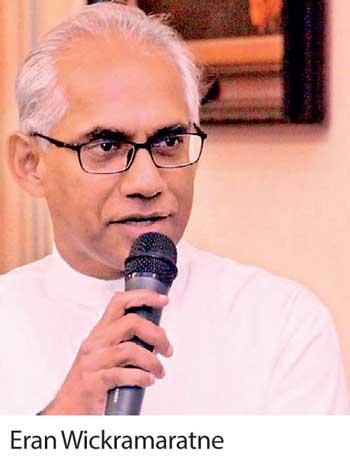 By Yohan Perera and Ajith Siriwardana
The People's Bank (Amendment) Bill will help the State-owned bank to be competitive in a situation where the market share of State banks are slated to decline and lag behind private banks, State Minister of Finance Eran Wickramaratne told Parliament yesterday.

Speaking during the debate on the People's Bank (Amendment) Bill in the House, Wickramaratne said private banks are expected to overtake State banks in terms of market share within the next five years.

"Market share of State banks will be reduced to 25 percent within the next five years compared to the current 45 percent," he said.

Wickramaratne pointed out that People's Bank needs to beef up its authorized capital to maintain market share.

"The objective of this legislation is to help the bank maintain the market share."

He added that the bank will be given the freedom to issue debentures in order to increase its capital up to Rs.50 billion.

"The bank will be given the freedom to go ahead with debenture issues, but that does not mean it will not be monitored by Central Bank's Monitory Board," Wickramaratne assured. He also said increasing of People's Bank's authorized capital base was recommended by the Central Bank in 2017.

JVP MP Bimal Ratnayake said the definition of shareholders as per the section 13 of People's Bank Act is to be changed by the new legislation. This, he said, might push the bank
towards privatization.
Ratnayake said this could be a loophole, which could lead to the privatization of the bank.

UPFA MP and Former State Minister of Finance Lakshman Yapa Abehywardene said there is nothing wrong in increasing the bank's capital, but the private sector should not be allowed to get a stake in the bank through debenture issues. He said the Finance Minister should give an assurance that the private sector will not be able to get hold of a stake in People's Bank.