---
Senior economist Dr. Kenneth De Zilwa has been invited to take over the Chairmanship of the reconstituted Financial System Stability Consultative Committee (FSSCC) of the Central Bank (CB) by CB Governor Prof. W.D. Lakshman, with effect from this month.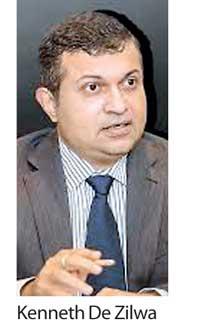 The FSSCC, which was set up in 2017 by the former CB Governor Dr. Indrajit Coomaraswamy, has been tasked with assisting the CB in its formulation of policies on financial system stability and financial sector development.

In a letter dated June 26, 2020, Prof. Lakshman had invited Dr. De Zilwa to take over the leadership of the FSSCC, with effect from this month.

Dr. De Zilva, who had worked as a senior banker for 15 years, was also appointed as a member of the Monetary Policy Consultative Committee (MPCC) of the CB, early
this year.

The newly reconstituted FSSCC members include Insurance Regulatory Commission Director General Damayanthi Fernando, Credit Information Bureau Director/General Manger C.N.S.N. Anthony, Sri Lanka Bankers' Association Secretary General Ravi de Silva, CSE Chairman Dumith Fernando, SEC Chairman Viraj Dayaratna, People's Leasing Senior Deputy General Manager Operations Sanjeewa Bandaranayke, Sri Lanka Forex Association President Rihaan Shakoor and Finance House Association Chairman Roshan Abeygoonawardena.