---
ICTA chief says startup ecosystem needs to be empowered further to witness accelerated growth
Notes time-consuming current IP application procedure and the absence of a dispute resolution mechanism for IP infringements as major drawbacks
Sri Lanka's ICT sector's aim towards reaching the US$ 3 billion mark by 2024 requires fresh focus in the country creating its own Intellectual Property (IP), an endeavor that could be led by the budding startup ecosystem, the Information and Communication Technology Agency (ICTA) said.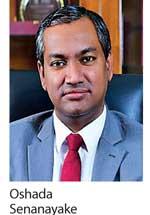 In an effort for the IT sector to realise the goal set for 2024, along with being on par with regional peers, the ICTA asserted the need for Sri Lanka to move away from being a traditional service-oriented industry and embrace renewed thinking.
"To reach this mark I believe it is important that we (Sri Lanka) start producing and creating our own intellectual property, and I think that startups have a huge role to play in that aspect," said ICTA Chairman and Director General of the Telecommunications Regulatory Commission of Sri Lanka (TRCSL) Oshada Senanayake.

Senanayake presented his viewpoints while addressing the Day 2 sessions of the Sri Lanka Economic Summit 2021 held yesterday. The startup ecosystem, which is receiving support from private sector stakeholders, needs to be empowered further so that the ICT industry is able to witness accelerated growth, he added. At present, startups are faced with several issues in applying for IP protection as the manual process, which is acknowledged to be time-consuming, discourages moving forward in this regard. A survey carried out by PwC earlier this year revealed that offline patent database prevents start-ups from enforcing their intellectual property rights globally since local patents cannot be independently verified with the application process being facilitated offline. Another key reason why startups are not keen to move forward with IP applications is the absence of a dispute resolution mechanism for IP infringements leading to court litigation for settlement.

According to the current system in Sri Lanka, all infringement claims need to undergo court litigation, even for low-level offences such as trademark infringement or domain squatting as there is no dispute resolution framework to settle before going to court.

Furthermore, the average timeline between applying and receiving patent approval takes about three to six years, depending on the complexity of the IP being registered and usage of legal support, which discourages startups to register IPs locally.