---
Hutchison Telecommunications Lanka Ltd., (Hutch Lanka), subsidiary of CK Hutchison Group (CKHH Group Hong Kong) has announced the successful completion and consolidation post-acquisition of Etisalat Lanka Ltd.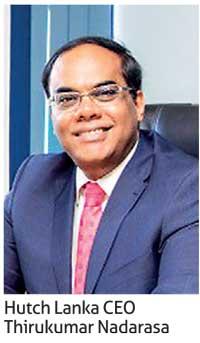 Hutch Lanka has been operating in Sri Lanka since 1997, and is a subsidiary of CK Hutchison of Hong Kong, which is a Fortune 500 Company based in Hong Kong.

CK Hutchison Holdings Limited, Hutch Lanka's parent company is a renowned multinational conglomerate committed to innovation and technology with businesses spanning the globe.
"Strengthening its market position through this acquisition, Hutch Lanka will continue to operate under the brand name of Hutch as Etisalat Lanka ceases to exist in the country," a Hutch Lanka statement said.

By integrating the two networks, the combined business will provide all customers with 078 and 072 prefixes a major boost in both rural and urban network coverage and a renewed commitment in offering superior communication services benefiting from superior network quality, coverage and performance.
Hutch also recently launched 4G services in the Western and Eastern Provinces and nationwide roll-out is in process and will soon be available to 072 subscribers as well.

Elaborating on the company's future, Thirukumar Nadarasa, CEO Hutch Lanka said, "By building a stronger market presence, all 078 and 072 subscribers can soon enjoy expanded nationwide 2G/3G network while we continue to establish our advanced 4G network that will deliver enhanced broadband coverage and service," Hutch Lanka CEO Thirukumar Nadarasa said.

"We will strive to give the market a greater choice of more affordable quality mobile services," he added.