---
Hatton National Bank PLC (HNB) gave more loans in the final three months of 2020 (4Q20) while improving its asset quality significantly by regularising a sizeable facility given to a state enterprise from the non-performing to performing category.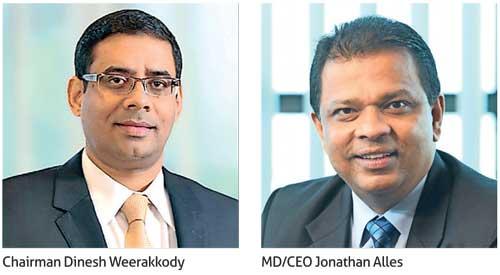 The bank reported a net interest income of Rs.12.4 billion for the three months under review, down 8 percent from the same period in 2019 but the loan book grew by as much as Rs.30.6 billion during the period, accounting for most of the Rs.42.6 billion total loans granted during FY20.

The pandemic crushed the demand for loans but the liquidity support and the aggressive monetary easing by the Central Bank helped HNB to gradually increase the pace of growth in its loans, albeit the pace wasn't up to the bank's liking.

"The accommodative monetary policy adopted by the CBSL to drive economic growth saw AWPLR dropping sharply by over 400bps during the year. Nevertheless, the demand for credit did not pick up as anticipated, due to the prevailing uncertainty," HNB said in a statement.

Despite the lower than anticipated growth in credit, the bank managed to record a sharp increase in asset quality as "a facility of over Rs.11.5 billion to a state-owned enterprise, which was classified as NPA in 2019 was regularised during the last quarter of 2020.
This together with the bank's concerted efforts on improving asset quality enabled HNB to record a marked improvement in its NPA ratio to 4.3 percent, from 5.9 percent reported as at end of 2019, despite the stressed market conditions," the statement added.

HNB provided Rs.3.9 billion as provisions for possible bad loans and other losses, up 71 percent from the same period in 2019, including the substantial impairment charges for the bank's investments in dollar-denominated government securities, due to the sovereign downgrade.

The bank saw a massive deposit pile up to the tune of Rs.157.8 billion in 2020, of which Rs.45.4 billion came during the final three months.

The bank also raised US $ 60 million from PROPARCO, the French Development Agency, to on-lend to small businesses.

The bank reported earnings of Rs.8.77 a share or 4.49 billion for the quarter under review, compared to earnings of Rs.12.24 a share or Rs.6.26 billion for the same period in 2019.

For the full year, HNB reported earnings of Rs.25.58 a share or Rs.13.1 billion, compared to Rs.28.65 a share or Rs.14.67 billion in 2019.
The bank's share ended at Rs.135.75 yesterday, Rs.2.00 or 1.45 percent lower.