---
Stresses EU maintains stringent standards
Reiterates trade is not one-way street
Stresses SL should recognise import ban so that EU can approach WTO
By Shabiya Ali Ahlam
The European Union (EU), Sri Lanka's second largest trading partner, yesterday called on local industries to step up efforts in competing with regional peers to retain the market share of the 27 member states, and stressed greater focus is required to improve the quality of goods and services traded.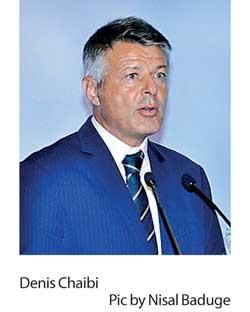 While the EU is a quantitative market, Delegation of the EU to Sri Lanka and Maldives Ambassador Denis Chaibi stressed that the European community is also a qualitative market with a huge potential for the future.

"The best way for Sri Lanka to increase the added value of agriculture is to go for quantity and quality, and the Europe will be there as a very happy customer.

"But we are also a very demanding market. We have lots of barriers that have to do with quality standards, and environmental standard," said Chaibi during the official launch of the step-by-step trade procedure functionality of the Sri Lanka Trade Information Portal (SLTIP).

Acknowledging that Sri Lankan will want to sell directly to Europeans through online and innovative shipping, he highlighted that the EU standards in this regard are highly advanced and stringent than the rest of the world.

"So, we are a demanding market, but we are very happy to be a good market for Sri Lanka, because the Sri Lankan products are the best," said the ambassador.
Chaibi, as highlighted by the EU in the recent past, asserted Sri Lanka must understand that "trade is not a one-way street".
Referring to the import ban imposed by the Sri Lankan government to ease pressure on the overall balance-of-payment following the COVID-19-hit on the economy, Chaibi said the EU needs "recognition notification in the horizon."

"We need recognition that there is an import ban. Sometimes we are told that there is no import ban but just impediment for the banks to pay in foreign currencies, but these payments are linked to products, so we have to recognise that there are trade restrictions," he stressed.

Chaibi stated that when such is recognised, the World Trade Organisation (WTO) can be notified and ways of working together can be explored.

He elaborated that Sri Lanka would benefit tremendously from giving a high horizon to the traders and potential investors.

"If we want to attract foreign direct investment to Sri Lanka, we need to have certainty, and we need to be able to export.

"Who would invest in Sri Lanka, not knowing if he or she will be able to export, because they know that the trade restrictions may attract some reaction,"
he said.

Reflecting similar sentiments was EU Delegation Head of Political, Trade, and Communications First Councilor, Thorsten Bargfrede, who stressed on the need for Sri Lanka to be more competitive in its trade.

"I can only encourage businesses to take the challenges, and to stay on the edge and stay competitive. There are very powerful trade nations in the region and Bangladesh, Vietnam and Cambodia have similar market access to the EU," said Bargfrede, noting that competing on price is only one approach to enter the region.

He shared that another competitive advantage in the European market is the high level of labour and environmental standards where consumers in Europe are ready to pay more if they know that products were produced in a fair manner, keeping environmental sustainability in mind.