---
Brandix board to forego salaries for six months
Executive staff salaries to be reduced up to 60%
Order cancellations place firm under huge financial stress

Sri Lanka's largest apparel exporter Brandix Lanka Ltd (BLL) is rolling out several substantial cost-cutting initiatives, including up to 60 percent pay cuts for executive cadre and board members foregoing compensation for a period of six months, to stay afloat, as the cash flows dry out due to the adverse impacts stemming from the COVID-19 pandemic.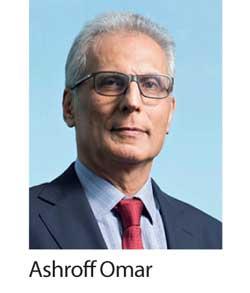 "Over the past few days, we have worked around the clock to preserve cash and protect our company. Without committed revenues, we are compelled to take difficult actions and are required to significant costs out of the business," Brandix CEO Ashroff Omar said updating the staff on the prevailing situation via a memo recently.

Accordingly, the board of directors of Brandix, including its CEO Ashroff Omar, has decided to forego their compensation for the next six months with immediate effect and the salaries of the executive cadre would be cut between 5 percent and 60 percent, depending on the salary level.

Further, the firm has also decided to freeze all capital expenditure and to put on hold all new contractors and consultants while discontinuing its temporary staff. It was also decided to defer all discretionary expenses.

"We are also mindful of the fact that our staff and associates will be considerably impacted on account of reduction in earnings in the form of allowances and overtime. We will be making more critical decisions over the next few days," Omar said.

Sri Lanka's apparel exports are projected to decline by US $ 2 billion up to end-May with key retailers cancelling orders, as the retail chains are forced to shut down their stores across the world, including in the country's key export markets, Europe and the United States, to curb the spread of
COVID-19.

Omar noted that their customers have cancelled all future orders and requested not to ship what has already been manufactured, indicating the prevailing dire situation.

"Some buyers even requested discounts on top of cancellations. These actions are unlike anything we have seen before and this has placed unprecedented financial stress on our company. The inability to generate revenue has placed our company, economy and our individual welfare, at grave risk," he added.

Omar remarked that the apparel industry is yet to see a silver lining with no indication of reversal of the prevailing situation.

"The situation keeps changing by the day. Unfortunately, it keeps getting worse and we have no indication as to when it will reverse," he said.

However, he was optimistic that the apparel industry would lead the recovery of the country's economy with the right support of the government.

"However, we must and will come through this. Our industry must remain strong to lead Sri Lanka's recovery," he added.