---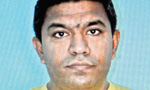 Sri Lankan national and suspected ISI agent, Zahir Hussain, whose arrest in April had led to the unearthing of a Pakistan spy network in India, was convicted for five years by a special court for smuggling counterfeit currency.

Special judge M Moni pronounced the verdict, a day after Hussain pleaded guilty in the court, confessing that he had entered India at the behest of two Pakistani embassy officials based in Colombo.

Hussain had surprised all on Thursday when he confessed in the court that he had acted at the behest of the Pakistani officials and smuggled counterfeit currency with a face value `2.53 lakh. Adding to the drama, the lawyer appointed by the district legal services authority for Hussain also submitted that he was not willing to appear in the case. His associates — Siva Balan and Mohammed Saleem — have denied charges against them.

A Sri Lankan national, Hussain was arrested by the Q branch police from Triplicane based on a tip-off from a foreign country about his espionage activities. This led to the arrest of other suspects, ending with the high profile arrest of Arun Selvarajan, who is believed to have gained access in the power circles by running an event management company as a front. Investigation into the cases was subsequently taken up by the National Investigation Agency, which filed the chargesheet in October against Hussain, Siva Balan and Mohammed Saleem for smuggling counterfeit currency based on the instructions of the Pakistani officials. The NIA had charged them with intentionally attempting to destabilise the economy.

On Friday, when the case came up for hearing again, judge Moni pronounced Hussain guilty based on his confession and sentenced him for five years in prison. "The judge sentenced the convict for five years under Section 16 of the Unlawful Activities Prevention Act and another five years under Section 18 of the same Act. He is sentenced for two years under IPC section 120B on charges of conspiracy," said public prosecutor C S S Pillai, who appeared in the case. All the jail terms will run concurrently, which means the convict will be in prison for a maximum of five years. (The New Indian Expres)