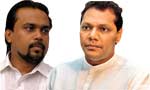 Rejecting the 'hopper revolution' remark made by MP Wimal Weerawansa on Wednesday, Minister Dayasiri Jayasekara said today that the former would end up in a garbage dump for bringing up rotten issues.
"We have arrived at a point where appropriate measures need to be taken in order to resolve the issues faced by the country. We request MP Weerawansa to not attempt to pull back the country by selling the rotten piece of fish he calls patriotism," the minister said.
He made this comment in response to Mr. Weerawansa accusation that the present government which had preached simplicity was now wasting public funds.
"We are more patriotic than the so called patriots, and we respect our culture and law and order," he said.
He said there was no reason to hoist black flags, and they were not prepared to give judicial control to white men.
"The Geneva Human Rights Commission faulted us for actions committed in the past. He tried to solve the problem by threatening, engaging in a hunger strike and protesting in front of the United Nations office. But there are other ways of solving these problems," he said.
(Chaturanga Pradeep)
By Chaturanga Pradeep