---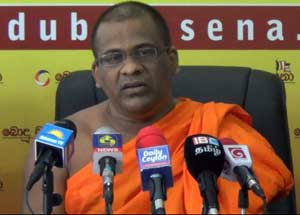 The Police are behaving like kids in the case where a man was allegedly abducted and assaulted by supporters of parliamentarian Hirunika Premachandra, the Bodu Bala Sena (BBS) General Secretary Galagodaaththe Gnanasara Thera said today.
He told a media briefing that reports about the police seeking advice from the Attorney General was incorrect.
The Thera said they were unhappy about the police failing to take legal action against the parliamentarian on this matter.
"Several arrest warrants were issued against me, for not appearing in the Court on time. Even the police filed cases against the BBS and some were referred to the mediation board. I had to waste a lot of time over these cases," he said. "I don't know why she is not being arrested. It looks mysterious."
(Chaturanga Pradeep)
Video by Chaturanga Pradeep