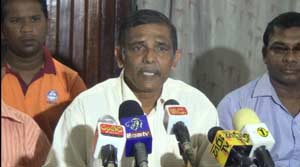 The Water Supply Joint Trade Union Alliance today threatened to launch a trade union action from December 26 to 28 for not paying their annual bonus payment.
"We demand the government and the authority to pay the balance of our bonus payment immediately," the alliance said.
Alliance leader Upali Ratnayaka alleged the annual bonus had been paid continuously for forty years but this year it had been deducted arbitrarily by Finance Minister Ravi Karunanayake.
"This has been approved by the Cabinet on the recommendation of the management of the National Water Supply and Drainage Board," he said.
He charged that their bonus of Rs. 37,000 had been arbitrarily reduced to Rs.25, 000 and that too had been remitted to the employees' accounts only on Wednesday night. "No one was informed about this. We will have to wait till next Monday to collect the amount because of the long holiday," he said.
Mr. Ratnayaka said essential services such as water purification would not be interrupted during the trade union action, to avoid difficulties to the consumers.
"However, all other emergency services and breakdown services will come to a standstill," he said.
Meanwhile, he said an island wide three-hour protest would be launched by the Alliance on December 28 from 9.00 am to 12.00 noon.
Mr. Rathnayaka said, if the authorities didn't pay the deducted bonus payment even after the three-day trade union action, they would launch another island wide strike.
"In such a situation, the government and the President should take the responsibility for the inconvenience caused to the consumers ," he said.
(Chaturanga Pradeep)