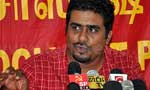 Front line Socialist Party (FSP) Politburo member Duminda Nagamuwa said today FSP Central Committee member Kumar Gunaratnam, who was engaged in active politics for the last couple of months was arrested due to the influence on the Government after the recent attack at the protest launched by the HNDA students.
Mr. Nagamuwa said the Government attacked the protest campaigns launched by university students and people who protested for their rights for the last ten months whereas it came to power pledging to ensure student rights.
"Government attacked the university students" protest on March 31 and protest by the University Bhikku Federation on April 30. It also attacked protests in Kotakethana and Jaffna. The Government's reaction is clear when peoples' forces are rising against it. People should understand the Government's repressive reaction to their issues," he said.
Mr. Nagamuwa told a news conference that Kumar Gunaratnam was arrested by the previous Government and deported from the country due to various influences by civil society and political parties and that he was brought back to the country after the assurance given by the present Government to ensure democracy in the country where people who left the country due to political reasons could engage in their political activities freely.
He said however the Government attempted to arrest and deport Mr. Gunaratnam by the end of January and that now it had started its suppressive actions when forces against the Government were rising in the country and it was following the suit of the previous Government and that Gunaratnam was abducted him and the present Government arrested him.
Mr. Nagamuwa said the people would have to return to the campaign launched by them before January 8 to ensure democracy in the country and added that they would organize a political campaign against the arrest of their leader.
He said they would consider taking legal action against the arrest as he was arrested without any arrest warrant and searched the house without any search warrant.
(Ajith Siriwardana)