---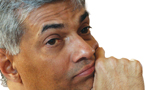 Coming up with the United National Party (UNP)'s latest stance on the presidential elections, party's National Leader and Leader of Opposition Ranil Wickremesinghe yesterday said the party was for the fielding of one candidate representing all opposition political parties.
M. Wickremesnghe came out with this while addressing a meeting of women in the Colombo District organised by the Colombo Mayor A. J. m. Muzammil and his wife Feroza Muzammil last afternoon.

"Our stand is that there should be one candidate from the opposition at the Presidential Election," Mr. Wickremesinghe said in response to a question raised by a woman who was at the audience.

The woman questioned as to whether Mr. Wickremesinghe would contest the election or whether there was anyone else available to be put forward as the common candidate.

Elaborating on the issue, Mr. Wickremesinghe said a candidate would be named when the Presidential Election was officially declared.

However, he said the latest speculation in the political circle was that the election would be postponed to March 2015.

However, he said all party members should unite to make the next presidential election a success as far as the UNP is concerned.

Responding to the allegations that he had a hand in the de-proscribing of the Liberation Tigers of Tamil Eelam (LTTE) by the European courts, said he would officially request the European Union to file an appeal against the de-proscription.

Also he urged the government to come out with its stance with regard to the issue.

Further he questioned as to whether the government would acquire 300 filling stations and the ships owned by the LTTE across Europe.(Yohan Perera)