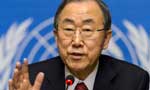 UN Chief Ban Ki-moon has encouraged President Maithripala Sirisena to advance the dialogue on a political settlement in Sri Lanka, a statement said.
Issuing a statement after the meeting between the UN Chief and the visiting Sri Lankan President in New York on Saturday, the Ban's office said; "the Secretary-General discussed recent political developments, congratulated the President on the elections, and commended his message of national unity, reconciliation and good governance. He encouraged the President to advance the dialogue on a political settlement and seize this opportunity to lay the foundation for long-lasting peace and stability."
It also said that the Secretary-General welcomed the High Commissioner for Human Rights' recently released report on Sri Lanka. He was pleased with the Government's positive and constructive engagement with the UN on the report, and he hoped that the President would implement its recommendations.
"The Secretary-General reiterated his strong commitment to Sri Lanka and pledged the UN's continued support. He looked forward to working closely with the President, the Government and domestic stakeholders during this critical time. The Secretary-General also encouraged the President to incorporate the Sustainable Development Goals into the national development agenda," the read-out added.