---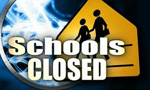 Ten schools in the Haldummulla Education Division were closed until Monday because of the landslide at Meeriyabedda Estate this morning, Education officials in Uva Province said.

Among those closed were three schools in Punagala, Punagala Sinhala School, Kabaragala School, Meeriyabedda School, Balagala School and Naketiya Tamil School.

The Haldummulla Zonal Director was also advised to take steps to close schools if they were vulnerable to landslides.