---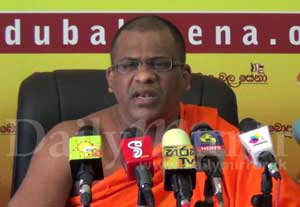 Bodu Bala Sena (BBS) General Secretary Galagodaaththe Gnanasara Thera called on authorities to stop hunting army intelligence personnel for the benefit of foreign parties, and protect law abiding Sri Lankan army personnel instead.
"It has come to our notice that international conspirators and those working for many Non-Government Organisations (NGOs) want to portray the law abiding Sri Lankan army as being atrocious killers. Several army intelligence personnel had been arrested without any investigation. All those who were deported and groups who acted against the country in the past are now entering the country again and have begun to raise their heads," the Thera said.
"Those who now speak of 'good governance' would not know the results of their actions until it dawns on them in five or ten years' time," he said. "As Sri Lankans, we should question why these intelligence personnel are being arrested and for whose benefit it is being done", the thera said.
(Chaturanga Pradeep)