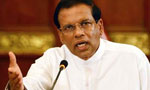 President Maithripala Sirisena said he will not allow foreign companies to enter into gem mining industry in the country.
"During the time I was the Common Candidate for the Presidential Election, the people requested me not to let the foreign companies mine gems in Sri Lanka. After I was elected as the President, I took every action to stop such mining by foreign companies as soon as I got to know about those", he said.
The President made these remarks at the opening ceremony of the National Gem and Jewelry Exhibition at the BMICH on Saturday.
He pointed out it is essential to provide the mechanical and technical knowledge to those who are engaged in the gem industry, for its growth. "The government will provide every facility in this regard", the President said.
"When I presented a gem to Queen Elizabeth at the recent meeting, she showed her gems and jewels and said they were made of the gems from Sri Lanka. This shows the interest of foreign countries for Sri Lankan gems", the President said.
"Though the demand for Sri Lankan tea and rubber have decreased in the international market, the demand for our gems is increasing. Hence, the gem industry has a special contribution for the increase of the foreign income", the President further stated.
President Sirisena presented an award of appreciation to Mr. Dayananda Dillamuni, a member of the Gemmologists Association of Sri Lanka, for his contribution for the development of the gem industry. The President also presented certificates to six Gemmology Diploma Graduates of Sri Lanka Gem and Jewellery Association.