---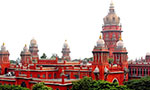 Coming to the rescue of a Sri Lankan refugee who had served the Tamil Nadu government for 32 years, the Madras High Court bench Monday directed the government to settle the emoluments due for him with 12 percent interest.
Allowing the petition, Justice T Raja also imposed a cost of Rs 10,000 on the Director of Social Welfare for not disbursing the emoluments and directed him to pay the cost from his personal funds within six weeks.
The petitioner I Jothi Gandhi, a refugee since 1973, was appointed as an Office Assistant on November 5 1981 on the basis of his Sri Lankan educational qualification.
After 10 years of service he was promoted as Junior Assistant, only to be reverted to the post of Office Assistant later on the ground that he did not possess the requisite educational qualification.
However, he did not challenge the order reverting him to the old post. Again on June 2, 2010 the Commissioner of Social Welfare Department promoted him to the post of Junior Assistant along with 59 other employees in accordance with the Tamil Nadu State and Subordinate Service Rules.
But two days before the petitioner was due to retire on March 31, 2013, the Director of Social Welfare passed an order stating that the salary paid to him for the post of Junior Assistant would be recovered from his pension amount if he failed to prove that he was qualified to hold the post.
Observing that the order was unfair, the Judge said the official deserved to be imposed with a heavy cost. (Source: DNA India)