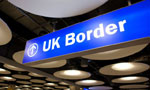 A Cromer woman who claimed she was raped and then tortured with cigarettes by security forces in Sri Lanka has pleaded with the Home Office not to send her back, the Norfolk Eastern Daily Press reported.
Cromer is a coastal town and civil parish in north Norfolk, England.
The report said:
Her husband said he escaped from the soldiers after being shot and wounded and came to Cromer in 1998.
The alleged victim recently joined her husband in the seaside town.
The couple's background was revealed at an Immigration and Asylum Tribunal in Birmingham.
The woman appealed against a Home Office decision to deport her back to Sri Lanka after rejecting her application as an asylum seeker.
John Smith, representing the Home Office, said they refused the woman's application because she had been unreliable in making claims about her bank statements and employment.
The woman, who denied these claims, told the tribunal she was held in captivity, raped by security forces in Sri Lanka and burned on her body with cigarettes.
She expressed fears she would face further danger should she be sent back.
Emma Rutherford, representing the woman, told the tribunal her client might commit suicide if separated from her husband and sent back to Sri Lanka.
The husband said he was diabetic and his wife did the cooking and looked after him.
He added: "I do not want to return to Sri Lanka because I like the food in Cromer and dislike the weather in Sri Lanka.
"I escaped from the security forces to reach England after being shot and I still have the wounds to prove it."
Tribunal judge George Ferguson said he would make a decision at a later date.