---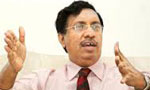 The Government expects the wages boards and the employers to increase salaries of some six million private sector employees in the wake of the non-formal sector salaries being increased up to a minimum of Rs.10,000 and the public sector salaries up to a minimum of Rs.25,000, Minister Anura Priyadarshana Yapa said yesterday.
Commenting on the 2015 Budget proposals, the minister said the government increased the salaries in the non-formal sector because nearly two million were engaged in cottage industries, domestic industries or in self-employment and did not come under wages boards or any state authority and had no way of demanding pay hikes.
He said the biggest beneficiaries of the Budget were government and semi-government employees because the allowances paid to them had been added to the basic salary as demanded by them for a long time and as a result they were now entitled for enhanced overtime payments and other allowances.
"Public servants who are due to retire will get a bigger pension because the pension is calculated on the last salary drawn before retirement. The pensions of all retired public servants will also be calculated on the 2015 salary and thus removing all anomalies giving the pensioners a windfall," the minister said.
Dismissing opposition allegations that the budgetary benefits were bribes given by the government targeting the forthcoming presidential election, he said the benefits were dividends the country had reaped as a result of the development programme begun in 2009.
"In the past Sri Lanka's foreign reserves did not pass the US$5 billion and was enough only for a few weeks of imports. But today foreign reserves have increased to US$10 billion, sufficient for six months of imports for the first time in the country's history," the minister said.
He said these were possible because of the pragmatic macroeconomic fundamentals the government put in place and the political stability post-2009 with the victory over separatist terrorism. (Sandun A Jayasekera)