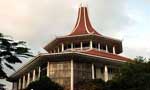 Colombo Additional Magistrate Amila Ariyasena today rejected a bail appeal by Tamil prisoners, who were in remand prison for alleged terrorist involvement, since the Attorney General's report on them was not received by the TID of the Police.
The Magistrate made this order considering the submission made by Counsel Senaka Perera and Thushara N. Dasun for the suspects, who contended that the suspects had been in remand custody for more than 18 months without being charged.
The Counsel also submitted that there were precedents, where bail had been given previously.
However, the Magistrate asserted that it was essential to consider the Attorney General's opinion, since the matter concerned the Prevention of Terrorism Act (PTA).
The TID told Magistrate that investigations were already concluded and the extracts of the investigations had been sent to the Attorney General for his opinion.
But they had still not received it. The case was postponed for November 11.
(Shehan Chamika Silva)