---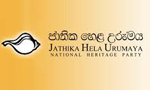 The Jathika Hela Urumaya (JHU) today said its resolutions would be discussed with President Mahinda Rajapaksa with the objective of deciding whether to back him at a future Presidential Election.

The JHU at its 11th Convention held on Sunday adopted eight resolutions including one to amend the present Constitution and to reduce the number of Cabinet Ministers to 25.
Party Assistant Secretary and the Western Provincial Council Minister Udaya Gammanpila said they would field another candidate at a presidential election if the President was not in favour of JHU resolutions.
"If the President didn't agree to our resolutions, we will field a candidate, who would represent the majority Sinhalese of the country.
However, we have decided not to support Opposition Leader Ranil Wickremesinghe at any election because of his allegiance with Tamil separatist groups," he said.
Commenting on the European Court of Justice (ECJ) lifting the sanctions placed on the LTTE, the Minister said the decision portrayed how the European Union (EU) was politicised.
He said some European countries like France and the United Kingdom attempted to free the LTTE Leaders during the last phase of the war but failed.
"This is why the EU had decided to lift up the sanction," he said. (Lahiru Pothmulla)