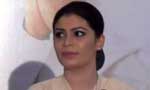 UNP Parliamentarian Hirunika Premachandra today said she was uncertain as how to address former President Mahinda Rajapaksa since he was also now an ordinary parliamentarian.
"Mahinda Rajapaksa lost his reputation because of his extreme hunger for power. If he stayed at home without contesting the parliamentary election, we could have still addressed him as the former president. Now I am in a dilemma as how to address him, whether to call him 'Manthri Thuma' (parliamentarian), sir or former president. He is just a parliamentarian like any of us now. Other parliamentarians also call him 'Manthri Thuma," she said.
Addressing a meeting in Wellampitiya yesterday, she also said the actions of the new government were very silent in comparison with the previous government and added the political culture in the country was now taking a new leap.
"We like to have decent ministers with simple political principles. They should be able to travel in their vehicle only with their driver and not with a security squad, unless their lives are under threat," MP Premachandra said.
She said President Maithripala Sirisena and Prime Minister Ranil Wickremesinghe had already shown by example how to create a Yahapalana government.
(Chaturanga Pradeep and Indika Sri Aravinda)

WATCH