---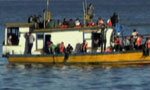 A tip-off that a group of Lankan Tamils were getting ready for an illegal ferry to Australia from a spot in Tharangambadi in Nagapattinam District has brought all refugee camps in Tamil Nadu under the tight surveillance of intelligence sleuths.

Sources in the intelligence department said that a group of refugees lodged in a camp at Tharangampadi has been pooling up money to buy a new boat at `30 lakh with a plan to illegally sail to Australia. The refugees were reportedly looking for a boat with a capacity of 50 and some local fishermen were also said to have been involved.

Though the illegal ferry plan has been confirmed, the group was yet to fix the place of departure. The group had also leaked its plan to other camps aimed at mobilising more persons and collecting the required amount fast.

In a swift action and to foil their plan, detectives have brought even Lankan Tamils staying outside camps under their watch.
Meanwhile, preparations are under way for the celebration of the birth anniversary of LTTE leader Prabaharan on Nov 26 and Martyrs' Day the next day. Following this, supporters and sympathisers of the proscribed Tiger outfit are also on the radar of the intelligence wing. (New Indian Express)