---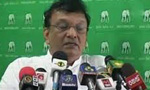 United National Party (UNP) parliamentarian Lakshman Kiriella today blamed the Sri Lankan Government for not engaging itself in the 2011 case filed in the General Court of the European Union by the LTTE against its proscription.

He urged the Government to take steps to appeal against the ruling to lift the ban on the LTTE and assured the UNP's full support for this matter.

"When we study the case and the verdict, it is very clear that no one was present to argue the case on behalf of the Sri Lankan Government. It is doubtful whether the External Affairs Ministry and the Attorney General's Department were even aware of the existence of such a case. It is important for the Government to engage in such matters," Mr. Kiriella said.

He said the Government was putting up posters all over the country blaming the UNP for the lifting of the ban but it was clearly the result of the Government policy on the member countries of the European Union.

"The Government has taken a decision to boycott any inquiry against it such as the inquiry into the alleged human rights violation by the UNHRC and the case in the General Court is also one of them. The Government is sheepishly accusing the UNP without making any attempt to engage in the case," Mr. Kiriella said.

He said the Government had been unable to mediate with the European Union with regard to this matter because the EU had lost faith in the Sri Lankan Government after it broke all the promises it made.

"The Government promised European Union member countries to implement the 13th Amendment and to reintroduce the 17th Amendment and ensure good governance in the country. But it has done nothing of the sort," Mr. Kiriella said.

He said External Affairs Minister G.L. Peiris had not made any statement with regard to this matter in Parliament even after two weeks of the lifting of the ban. The Government has to file its appeal against the verdict within two months.(Ajith Siriwardana)
WATCH