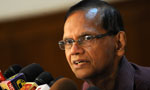 The move to introduce a new Constitution was an attempt to divert the people's attention away so the Government could establish a special war crime court as proposed by the UNHRC to probe alleged war crime charges and to 'hunt down' armed forces personnel, G.L. Peiris said today.
Addressing a news conference held at the Dr. N.M. Perera Centre in Borella, Peiris said the government had been given an ultimatum to execute UNHRC proposals and therefore, it would establish the war crimes court and introduce retrospective laws to take action on military personnel.
"The government is planning and it has to execute these actions before the arrival of UN Human Rights High Commissioner Prince Zeid Ra'ad Al Hussein's to the country next month.
"Even the British Minister of State at the Foreign and Commonwealth Office Hugo Swire, who concluded a visit in Sri Lanka, said that the government has no more time to act on these proposals," he said.
Meanwhile, he said the government had taken a U turn in its polices by introducing bills such as the Theravada Bhikkhu Kathikawath Bill and that this Bill was an attempt to silence the Buddhist monks, who are raising voice against the government.
"The government wants to control the Sangha," he said.
Commenting on the proposed new Constitution, Peiris said the people's mandate was given to President Maithripala Sirisena only to bring in Constitutional amendments, which would not call for referendum but Prime Minister Ranil Wickremesinghe's call for a new Constitution was against that mandate.
"The President had accepted that he would not go for Constitutional amendments, which will call for a referendum. This principle was disclosed by Minister Susil Premajayantha in Parliament.
"However, the Prime Minister's principle is the opposite of the President's. He wants to introduce a new Constitution, that too against the standard procedures. When Parliament focuses on a new Constitution, the Government can execute the setting up of the special war crimes court and retrospective laws. This is a mere attempt to divert the people's attention from pressing issues," he said.
(Lahiru Pothmulla)