---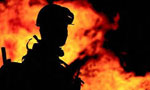 A fire broke out in a three-story building at the First cross street, Colombo, completely destroying several shops, last night, Police said.
They said electronic and electrical appliance, a mobile phones and a textile shops have been completely destroyed by the fire.
No injuries were reported due to the incident.