---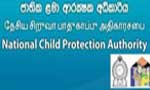 The National Child protection Authority (NCPA) today cautioned people and media organisations to stop publishing or sharing pictures or videos of five-year-old Seya Sadewmini on social media websites.
The little girl was abducted and killed on Friday. Her body recovered from the banks of a canal nearby.
Police investigations revealed that the child had been sexually abused and strangled.
The NCPA Assistant Manager Ediriweera Gunasekara said pictures and videos of the naked body were being circulated through social media websites.
He said instead of circulating these pictures or videos, those doing so should initiate a dialogue among the viewers to ensure that such mindless tragedies did not take place again.
"The media and the people should exercise caution and self-restraint, when reporting of such tragedies while ensuring that they never occur again," he said.
(Darshana Sanjeewa)