---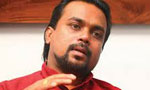 Western 'creationists' were trying to rob Sri Lanka of crucial data related to extra-terrestrial life to further their agenda and undermine Buddhist teachings on the universe, Minister Wimal Weerawansa has said.

Speaking at a religious event at a temple in Hanwella on Thursday, Mr. Weerawansa charged that a team of 'sudu mahaththuru' (white gentlemen) from an international space research institute had tried to seize raw material and data related to meteor fragments that had fallen into a paddy field in Anuradhapura.
At the time local scientists were still probing the meteor fragments and had discovered unicellular organisms embedded in the alien rock, which supports the idea that alien life exists.

"This team attempted to take hold of this valuable evidence almost immediately after local scientists had made this vital discovery," he said.

"Why did they do this?" he asked. "It's because they don't want the world to know that creationism is a blatant lie. When it is proven that life outside planet earth exists, creationism would turn into a lie. This was a fact that was initially declared and proven by the Buddha and his teachings on the universe," he said.