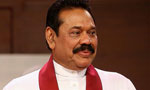 Even though the original complaint in connection with an alleged fraud at the Reconstruction and Development Agency (RADA) was lodged against former President Mahinda Rajapaksa, in the course of investigations, the former President had not been found to be among the perpetrators of the crime, the Attorney General informed the Supreme Court today.
Additional Solicitor General Yasantha Kodagoda, appearing on behalf of the Attorney General made this submission, when a fundamental rights petition filed by former MP Tiran Alles came up before the three-judge-bench of the Supreme Court.
"The original complaint was not made against the petitioner Tiran Alles but against Former President Mahinda Rajapaksa and Emil Khanthan. In the course of the investigations, the perpetrators of the crime in fact was not the former President but others. The original complaint should have been made against the petitioner," Mr. Kodagoda said.
ASG Kodagoda submitted to Court that the potential arrest of petitioner Tiran Alles was based on credible information sequent to the investigations carried out by the police Special Investigations Unit.
"There are reasonable grounds to believe that the petitioner has committed a cognizable offence and there is a statutory duty of police to arrest him even without a warrant," said ASG.
Mr. Kodagoda further submitted to Court that Mr. Alles had been appointed by former President for the position of both chairman and Chief Executive Officer of RADA.
He further stated that RADA was established in November 2005 by the then President as a Special Agency responsible for overseeing rehabilitation and development following the tsunami. He stated RADA was entrusted with several functions including Jaya Lanka Housing project to construct 1200 houses in the Tsunami affected Northern and Eastern provinces. However, Mr. Kodagoda stated that no single house had been constructed by the RADA under this program.
President's Counsel Romesh de Silva, appearing for the petitioner stated that prospective arrest of his client would restrict his liberty.
He stated that his client had become the non-executive chairman of RADA in 2005 and resigned from it on January 2007. He stated that police had acted in bad faith (mala fide) and got a travel ban against his client even without informing him of the same. Mr. Silva further stated that Police Special Investigation Unit (SIU) was conducting an investigation against his client about an incident that had taken place in 2006, after a lapse of nine years.
(Lakmal Sooriyagoda)