---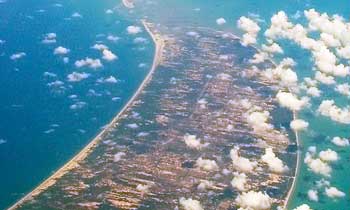 The Indian government has decided not to go ahead with the original alignment of Sethusamudram Shipping Canal project or any other alignment that damages the Ram Sethu or Adam's Bridge which loosely connects Sri Lanka.
The Times of India yesterday said the decision had been taken keeping with the government's political objectives while also addressing environmental concerns.
The canal was proposed by the United Progressive Alliance (UPA), more particularly by the Dravida Munnetra Kazhagam (DMK) that held charge of the shipping portfolio, and was vigorously opposed by the Bharatiya Janata Party (BJP) on the grounds that this will harm the Ram Sethu associated with Lord Ram's passage to Sri Lanka.
Environmentally, the project was criticised for endangering the fragile marine bio-diversity of the waters separating Tamil Nadu and Sri Lanka.
Advocacy of the Ram Sethu meshes with BJP's attempts to create a Hindutva vote in Tamil Nadu and Kerala while appealing to local tradition.
The decision to file a fresh affidavit in the Supreme Court making this stand clear was taken by PM Narendra Modi on Wednesday during his meeting with a few Cabinet colleagues, sources said.
"The shipping ministry will now put a detailed proposal for approval of the Cabinet Committee on Political Affairs (CCPA) to file a fresh affidavit. Once the affidavit is approved, it will be submitted in the Supreme Court," a source said.
Shipping minister Nitin Gadkari has said in 2014 that the "sacred structure associated with Lord Ram" won't be damaged at any cost and his ministry was exploring other options.
"Very soon I will get the Namo Govt to say in SC that they will not touch Ram Sethu and will make it a National Heritage Monument," BJP law maker Subramanian Swamy has tweeted a few hours after the government decided to file fresh affidavit. Swamy is one of the petitioners.
Indian Government officials said the new affidavit would suggest alternative routes for developing the channel so that the Ram Sethu is not touched.
UPA had courted a major controversy after it had filed an affidavit in the Supreme Court stating that there was no proof of Ram Sethu being a place of worship. Later it was withdrawn.