---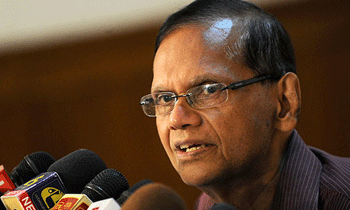 The Sri Lanka Podujana Peramuna (SLPP) today asked who would resolve the plight of people, when some of the ministers boycott Cabinet meetings.
Referring to the decision by Sri Lanka Freedom Party (SLFP) ministers to boycott Cabinet meetings, SLPP Chairman G.L. Peiris said this was similar to the month-long strike launched by the university non-academic staff.
"The administration of the country is in ruins. Who will resolve people's issues when ministers boycott Cabinet meetings? It was only last week the Government printed currencies worth Rs.100 Billion. This will bankrupt the country with the inflation and the cost of living rising. Amid these questions still unanswered, the government has found time to approve Rs.43 million to purchase a super luxury vehicle for a minister," he told a news briefing.
Meanwhile, Prof. Peiris said the government was attempting to postpone the provincial council elections like it postponed the local government elections for two and a half years.
"The terms of the three PCs have expired. Three more will be dissolved at the end of this year. The government has no option but to hold the election for these councils, as it is legally bound to do so. We won't allow the government to postpone the PC elections," he said. (Lahiru Pothmulla)