---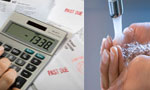 The water tariff will be increased by 30 per cent with effect from December 01, National Water Supply and Drainage Board Chairman K. A. Ansar said.
He said the water tariff is usually revised every three years but there had been no revision of water tariff for the last four years.
"We have not revised the water tariff in four years. We need to do so to ensure a quality service," he said.