---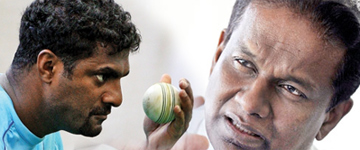 Former cricketer Muttiah Muralitharan's teaming up with the Australian camp during the Warne-Murali trophy would be disadvantageous to Murali himself in the long run, Sri Lanka Cricket (SLC) President Thilanga Sumathipala said yesterday.
"The decision to coach Australia will only be disadvantageous to Murali in the long run and not to Sri Lanka Cricket," he said.
Responding to a question asked by a journalist in Kandy, he said the SLC had tried hard to protect Muralitharan from sticky situations and that it was hurt by his decision to team up with Australia in the match against Sri Lanka played in his hometown in Kandy.
"There is no barrier in improving his career by a decision like this. But we think it's not ethical. After all, the series is named the Warne-Murali trophy. However, we are confident of winning the series even if it means having to face 10 Murali-type spinners. Murali is now only a former player," he said.
Meanwhile, Mr. Sumathipala said they had informed Australia Cricket about an incident where Murali is alleged to have used a local stadium to train Australian cricketers without permission.
Video by Nadeeka Daya Bandara