---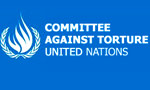 The UN Committee against Torture which is meeting in Geneva, Switzerland from November 7 to December 7 will review Sri Lanka and several other countries in sessions which will be webcast live, the Office of the High Commissioner for Human Rights (OHCHR) said yesterday.
The countries which would be revived are Ecuador (8-9 November), Finland (9-10 November), Monaco (11 and 14 November), Sri Lanka (15-16 November), Namibia (18 and 21 November), Turkmenistan (21-22 November), Armenia (23-24 November) and Cape Verde (24-25 November).
"These countries are among the 159 States parties to the Convention against Torture and Other Cruel, Inhuman or Degrading Treatment or Punishment, and so are required to undergo regular reviews by the Committee on how they are implementing the Convention and the Committee's previous recommendations," a statement issued by the OHCHR said.
The Committee, which is composed of 10 independent experts, will engage in a dialogue with the respective government delegations.
The public sessions, held at Palais Wilson in Geneva, begin at 10:00 Geneva time and continue at 15:00 the following day.
The Committee will publish its findings, officially known as concluding observations on December 7.