---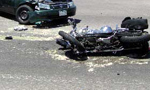 Two Police constables attached to the Negombo Police station were killed in a head-on collision of a motorcycle and a motor car at South Pitipana, Negombo on the Negombo-Pamunugama Road last night.
Police said the car on its way to Negombo had collided with the motorcycle heading towards Pamunugama.
The victims, Saminda Shanika Bandara (32) and Ashoka Lalith Yasanayaka (39) were identified as residents of Dankotuwa and Anamaduwa. They succumbed to their injuries after being admitted to the Negambo Hospital.
The driver of the car was taken into custody. Investigations revealed that he was driving under the influence of liquor at the time of accident.