---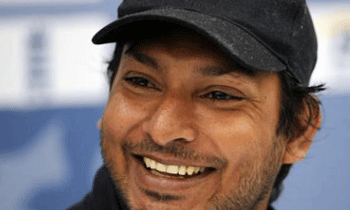 Sri Lanka may have upset the apple cart in the Champions Trophy with their victory against India, but rejuvenation of the Island nation's team has taken too long, says Kumar Sangakkara. And Sangakkara said the upheaval in the side had adversely impacted on the career of rising star Dinesh Chandimal.
On commentary during Sri Lanka's Champions Trophy Clash against India, which the underdogs won by seven wickets after completing a record run chase of 322, the 134-Test veteran expressed doubts about his country's ability to uncover and nurture the next generation of star players. Decorated pair Sangakkara and Mahela Jayawardena made their last appearances at international level in 2015, while Tillakaratne Dilshan retired last year. The trio scored more than 71,000 runs between them in all formats at the top level and Sri Lanka – ranked sixth in ODIs, seventh in Tests and eighth in T20s – have been in a rebuilding phase since. Sri Lanka have appointed Asanka Gurusinha, a member of their 1996 World Cup-winning team, as cricket manager for the next three years in a bid to address the issue.
Sangakkara said 27-year-old batsman Dinesh Chandimal, who has 12 international centuries, was one of few young players who had blossomed. Chandimal's talent is not in question, with the right-hander becoming the fourth Sri Lankan – after Sanath Jayasuriya, Sangakkara and Dilshan – to score five consecutive ODI half-centuries last year. He also has eight Test tons to his name. "The search has probably gone on a little too long," Sangakkara said when co-commentator Michael Atherton compared Sri Lanka's predicament to other nations who have faced similar challenges. "We've had two, two-and-a-half years of it now, looking for replacements for Dilshan, Mahela and we have some fantastic young players coming through. "One of the accusations directed at the management and the team has been that they haven't groomed anyone to fill those voids. "But I think the one man that was identified very early was Dinesh Chandimal, who performed excellently in South Africa, then in England, in Australia.
"He's actually had a period where he's been identified as the best young player (and was) appointed captain probably a bit too soon. "Then he was dropped from the captaincy, dropped from the team, so he's never had a consistent run in the position that he was identified for. "I don't think the environment he's played in has been very good for his confidence. Every time he now takes the field, it's almost as if (he's) playing for his place, for survival, and that's not a good place for a young player to be. "But also we have to re-look at a lot of the things that happen below international level – our first-class structure, our 'A' team structure – to make sure we actually drag those structures into the modern day." Sangakkara, who scored 12,400 runs as a wicketkeeper-batsman at Test level at an average of 57.40, said Sri Lanka had failed to recover from their losses as effectively as Australia and England.
Australia lost staples Michael Clarke, Brad Haddin, Shane Watson, Chris Rogers and Ryan Harris to retirement after the 2015 Ashes but have continued to unearth top-level talent, while England was left shell-shocked after being eliminated in the group stage at the World Cup two years ago and have transformed themselves as an ODI outfit since. However, Sri Lanka's famous victory over India may be a sign the wheel is about to turn.
"I think there are a few sides around the world that made tough decisions, tough changes," Sangakkara said. "Australia went through a period where all the big guns left and the youngsters had a year, year-and-half, two years of really adjusting and going through a tough time, but now they've regained their confidence, their abilities and their belief. "England, after the last World Cup, made some tough changes to their one-day set up.
"Andrew Strauss appointed director of cricket, new coaching staff – that has paid dividends. "Sometimes when things are difficult…maybe it's wise to not repeat processes that you have been following for quite some time but actually have the courage to change, and not only change, but once a policy decision has been made, a strategy put in place, stick with it and go the distance with it. "It takes time, but when you do put in the time and effort, results do come." Gurusinha, who will review Sri Lanka's structure, agreed with Sangakkara's assessment. "The main reason why the rebuilding phase is taking long is because there was never an emphasis on grooming new talent once Kumar and Mahela were reaching the end of their careers. We simply didn't groom anyone to replace the duo," Gurusinha told PTI before Sri Lanka's Champions Trophy clash against India.
"Since I have worked 20 years in Australia (grade cricket coaching), I believe in that system and I am not going to change according to Sri Lankan system. With me, you see what you get. "I believe in speaking straight and that's been my trait since playing days. I have been direct with SLC president Thilanga Sumathipala and chairman of selectors Sanath Jayasuriya that I will do it my way. "I want to be straight with my players and vice versa. Of course, the players can question me and I want them to challenge my methods." Sri Lanka must beat Pakistan in Cardiff on Monday as they pursue a second Champions Trophy title after being declared joint winners with India in 2002.(cricket.com.au)