---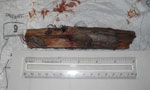 A six-inch piece of wood had been removed from a man's belly by the doctors at the Karapitiya Teaching Hospital recently, the relatives of the patient said.
They said it was a matter of concern that the doctors in Matara Hospital, who provided treatment to the patient for about a week failed to detect the piece of wood in the patient's belly, which the doctors in Karapitiya Teaching Hospital found within half-an-hour.
The patient, E.H. Dhanushka (22), sustained serious injuries when he fell on a fence and a wooden spike pierced his belly.
He had undergone treatment at the Matara hospital but he was transferred to the Karapitiya Teaching Hospital, when he developed complications.
Immediately after admission to the Karapitiya Teaching Hospital the doctors performed urgent surgery during which a piece of the wooden spike was removed from his belly, Dhanushka's relatives said.
They said the doctors at the Matara Hospital only dressed the external injuries and when his condition did not improve, they had transferred him to the Karapitiya Teaching Hospital. (S. Glappatti)